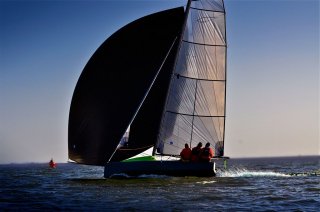 found this on SA.com the other day, but they've finally updated their website with some shots and a video and the video's on youtube as well (so I can share it here).  This looks like an open with a refreshed hull (chines) as well as a carbon rig, slightly bigger main (228sf -vs- 200sf on the open) AND A CANTING KEEL!!!  The put on daggerboard on centerline in front of the canter which makes that easy.  Not sure how they're moving the keel yet, but it's push botton so it's got to be something you need to deal with (meaning fuel or charging over a mechanical/winch system).  The jib still furls and looks great and the kite is much bigger than our opens (549sf -vs- 378sf).  They claim it's beating a ton of sportboats and they've only found 2 boats that can match it (which I would beleive).
Anywho, here's the stats on this bad boy:
LOA 19 feet
Beam 7 feet 6 inches
Draft 5 feet 6 inches
Displacement 992 Lbs
Ballast 441 Lbs
Bow-sprit ??? feet
Main Sail 228 sq. ft.
Jib 89 sq. ft.
Spinnaker OD 549 sq. ft.
SA (upwind) 317 sq. ft.
SA (downwind) 777 sq. ft.
the real question is how much is it going to cost?  The melges 20 is already $40k+, so this will probably be ~$60k, maybe even more?  If it were free, I'd take one right now, but I'll need to win the lottery to get one the way it is.  It's close to my ideal boat, I just need to know how much of a pita the canting is (time to do and recharging/refilling).  They also don't have my self tacking jib request nor a chute solution for easy single handing, but then again they didn't build this for me.
Here's the youtube clip:
and the gallery: